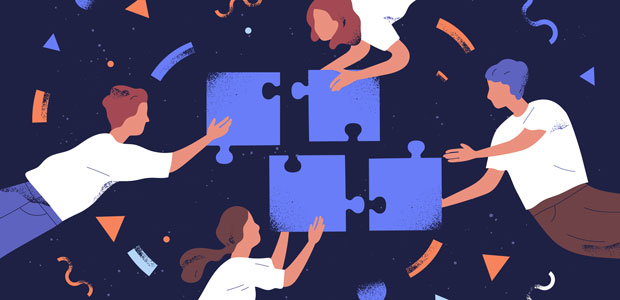 3 ways to support and nurture your workforce through times of uncertainty
Whether it's a natural disaster, global health pandemic or economic downturn, businesses are inevitably going to encounter some unexpected circumstances that are out of their control. It's not always straightforward for companies to keep operations running smoothly during these unprecedented times, but the highest priority should be to nurture employees and support the company culture. But how do organisations invest in the business culture, while still taking care of the company's changing needs?
It's safe to say that employees are a company's greatest asset and a positive outlook is now more important than ever. The foundation is based on businesses being able to give employees a sense of certainty, empowerment and direction.
Organisations need to put these three considerations at the forefront of its plans and provide the necessary tools to keep employees engaged, focused and confident in navigating any changes that they will face.
Building a sense of certainty
Unforeseen challenges, like the COVID-19 pandemic, create difficulties for business leaders that few expect or often are prepared for. Employees can be left wondering what the circumstances mean for the company and for their job - and these are often questions that companies struggle to answer.
As a result, businesses need to address the challenges by creating as much certainty as they can to refocus employees on the job at hand, whether they are working from home or in the office. Building this sense of certainty is one of the most critical tasks that leaders will need to implement, by clarifying priorities and communication strategies.
Business leaders need to communicate with employees during these difficult times. By keeping employees updated on what's happening across the organisation, it creates a feeling of certainty as workers understand business practices and can manage their expectations in line with the fast-paced market changes.
This will also help to reinforce the company's values and employers can use them to navigate the challenges facing the business. With leaders discussing how the values are guiding their thinking and difficult choices, employees will feel a sense of certainty and confidence in their organisations.
Establishing a sense of empowerment
Employee empowerment is all about accountability and trust. Businesses need to give its team a certain degree of autonomy and responsibility for decision making during these unprecedented times. Not only will this benefit their daily work, but it will also help pave the way for long term success and an engaging workplace culture.
By integrating employee empowerment into the daily roles of staff, companies can enable, inspire and encourage employees to take their own steps in improving their work, increase their productivity and remain motivated in achieving success.
It's also important to continue providing an organisational structure to employees, giving them clarity around company operations. In these challenging times, there is a need for businesses to allow more flexibility in terms of where and when their team works to enhance productivity and improve motivation levels.
What's more, clarifying options that are available to employees, even if some of which may not be particularly desirable, will give workers the opportunity to select what's best for them. This will offer a great sense of empowerment and a feeling of being in control.
Ultimately, employee engagement increases when they feel empowered with as much direction, certainty and involvement as possible, as it demonstrates that the organisation values and respects them.
Forging a sense of direction
Business leaders need to set the tone for the business from the top down. In order for organisations to succeed, senior employees should lead by example and drive the team to succeed.
By bringing people across the organisation together and creating a sense of unity will help employees feel like they are part of the businesses long term success and a vital asset when working through any crises.
The importance of leadership teams also centres around being prepared to operate in much shorter timescales than usual. Employees will appreciate honesty from their employers when the future is uncertain and will be motivated to work on goals that are in the coming days and weeks.
What's more, businesses need to stress their priorities, as employees are keen to understand what to expect and what to do in these challenging situations. Organisations need to ensure these directions are specific, tangible and clear for each individual, team and company, reminding employees that everyone's contribution adds to the overall business success.
Therefore it's vital for companies to explain why their employees' work matters and how they expect team members to behave, in order to establish a strong sense of direction. Over time, this will create a model for the company culture, giving the team a better understanding of what's expected of them and a sense of direction during times of uncertainty.
Looking to the future
In periods of uncertainty when things move fast and often in business, organisations need to be adaptable and provide guidance, support and recognition to its employees.
During these times, businesses need to focus on creating a sense of certainty, empowerment and direction, to nurture its team when they need it the most.
Together, these three elements will help ensure that whatever challenge the company faces, each member of the team feels empowered and informed as they navigate ahead.