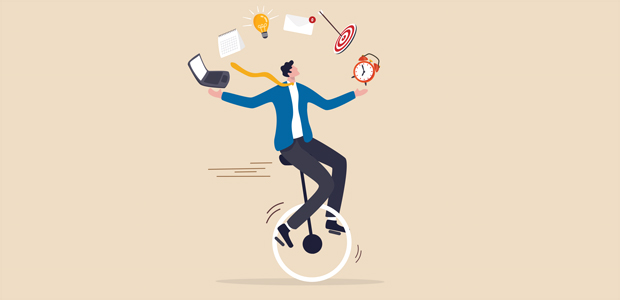 World Productivity Day tips
Over the tumultuous year we've just faced, productivity has been challenged in ways most had never considered. The strain of financial, career and health uncertainty has been a formidable foe for employees and employers alike. As we celebrate World Productivity Day this year, we do so with the learnings of the past 12 months under our belt.
Below, we have collated the thoughts of 11 innovative business and technology leaders on how they plan to better their productivity for their employees over the course of the next year.
James Herbert, Founder of

Hastee
"If there is one small positive we can take from this devastating pandemic, it is the way employers are now embracing a more flexible working culture to protect staff wellbeing and avoid workforce burnout. Those employers embracing changes to the working day, are benefitting from better levels of productivity, concentration, and motivation amongst their staff. But what about flexible pay?
After more than a year of turbulence, the often silent financial struggles UK workers have been facing, means employers, now more than ever, need to be doing more to support their staff's financial health. Hastee's Workplace Wellbeing Study found that a quarter (23%) of workers feel that on-demand access to pay will make them feel even more engaged and productive at work.
World Productivity Day is a great time to remind employers of the necessity to tackle this head on by looking at ways they can mitigate some of the burdens of financial stress. Whether this be providing the right tech infrastructure, offering best practice or more directly providing financial support to employees, business decision makers must continue to find ways to combat the productivity slump."
 Dr. Tim Guilliams, co-founder and CEO at

Healx
"The pandemic forced businesses to shift their work patterns almost overnight. Instead of physical offices and in-person meetings, employees have had to remain connected, motivated, and productive virtually for over a year. Many enjoyed the flexibility offered by remote working and with lockdown now easing, business leaders need to accept that a hybrid approach is here to stay. Organisations must now focus on keeping teams connected, while allowing individuals to find the working environments that suit them best, in order to maximise productivity and bolster business success.
At Healx, we have worked hard to create a working model that gives everyone autonomy over their schedule. A successful approach to hybrid working can only happen with good communication, especially when teams are apart. Using technologies made to facilitate collaboration helps, as it keeps colleagues connected on a personal and professional level, regardless of their location. The future of work is uncertain, but one thing is clear—we will never go back to old models of working. This World Productivity Day, it will be the businesses who promote a working model with everyone's needs and preferences in mind that will thrive in the months ahead".
Jamie Milroy, Founder and CEO,

DASH Rides
"This World Productivity Day it's important to reflect that being productive is not only related to work. Throughout the past year, we've seen just how important health is and we need to invest time in it.
Before lockdowns, many of us would be stuck on a tube, car, train or bus to commute every morning and evening, which can feel like a very unproductive use of time. We can use the pandemic as a reset button and evaluate how we use our time. Simply swapping the mode of transport we use to commute to and from work can make all the difference. Using an e-bike to travel is an extremely productive way to get around, not only do you get from A to B in a quicker, more sustainable way, you also fit in essential exercise.
E-bikes offer an easy way to incorporate exercise into your daily routine without needing to disrupt your working day. At DASH Rides, we want to empower employees to hop on an e-bike and be productive during their commutes as well as encourage a healthy lifestyle. We're proud to be supporting businesses through the Cycle to Work scheme and offer workers e-bikes for less than the cost of a coffee per day."
Stuart Templeton, Head of UK,

Slack
"Over the last fifteen months, the meaning of 'work' and how we measure productivity has been redefined. With 83% of people not wanting to return to the office full time, one thing is clear: the office is no longer the gold standard of productivity. Employees are eager to try new ways of working which give them greater flexibility and autonomy over their schedule, empowering them to do their best work whilst still focusing on their wellbeing. To achieve this, companies can only take one approach—hybrid working.
To facilitate this shift, business leaders must implement a new central hub for work, in place of the physical office. Using a messaging app for business like Slack helps to streamline information sharing and unlock effective asynchronous work, by housing all communication within a digital HQ. Channels can also be used to file conversations and update on individual movements, keeping teams connected and storing important information for those who need it, even when working across time zones.
Providing such flexibility means that organisations can reap the benefits of a motivated and engaged workforce, all while bolstering business success. This World Productivity Day, it will be the companies which embrace hybrid working, and the technologies which enable it, that will see the biggest productivity gains over the coming months."
Dahwood Ahmed, Senior Country Manager UK & Ireland,

Extreme Networks
"In a distributed world, the need to break down geographical barriers and organisational silos to stay connected and productive has never been more important. But when talking about productivity, most businesses first and foremost think about the software and hardware they use - forgetting that a robust, resilient, and reliable network needs to be put in place first before you can reap the benefits of these technologies. From global enterprises and high-profile sports leagues to healthcare services and university campuses, the network is the fuel that keeps these organisations running. With the right networking structure in place, an organisation can transform the way they operate and stay connected, pursuing any digital transformation effort to realise high-performance connectivity."
Benji Vaughan, Founder and CEO of

Disciple Media
"Productivity is a collective effort, particularly when looking at it through a strategic lense. The community we have around us has been essential this past year, whether that be in our personal or professional environment. In the past year, digital platforms have been the only way of staying connected and as we increasingly transition back to the physical world, it is vital to preserve the quality of connections. This helps maintain trust and ensure loyalty, the backbones of any valuable customer experience.
Businesses are currently defining what their future of work will look like as the concept of remote working is now part of 'new normal'. What shouldn't be compromised is the need to continue to grow with their community and double down on investments in technology that helps them nurture their existing customer or audience relationships.
Leaders of communities as well as businesses need to reflect on the origins of their connections to understand what motivated them in the first place. Locating and reigniting the source of shared passion is the best way to nourish relationships within a business or community, thereby establishing success - in the financial and in the more profound, human sense of the word."
Peggy de Lange, VP of International Expansion,

Fiverr
"Over the past year, companies across all industries have increasingly drawn on vital support from freelancers to help battle against the effects of Covid-19. The rapid shift to remote work highlighted the many benefits of working with digital freelance support, from geographic freedom to increased productivity.
Digital freelancers have been a lifeline for supporting UK businesses throughout the pandemic, and a recent survey conducted by Mckinsey shows there's no sign of this demand decreasing. With 70 percent of executives expected to use more temporary workers and contractors onsite at their companies than they did before the pandemic, it's evident freelancers have become a formidable part of business armoury over the past 12 months.
Increased demand for freelancers and reliance on a remote workforce have the potential to build business resilience and drive productivity. But to ensure productivity levels remain high, freelancers must be integrated effectively, briefed comprehensively and rewarded sufficiently for their work. As hybrid work emerges as the dominant post-pandemic model, it's imperative that freelancers and full-time employers are treated as equals. Freelancers may inject new levels of productivity into teams but to do so they must be fully integrated into a company and treated with an equal level of respect as all other employees."
Asam Akhtar, UK Manager at

Envoy
"The global pandemic turned "business as usual" on its head, with companies having to shift work patterns almost overnight. With employees dispersed across different locations and time zones, technology has played a critical role in maintaining that connection and communication. Now with the end of lockdown restrictions well in sight, companies face a new challenge of defining the future of work. With 3 in 4 (70%) UK workers stating that a hybrid model would result in personal benefits - and 34% saying it would improve their mental health - ready or not, it is likely to be hybrid.
To keep employees productive and engaged, businesses must offer the flexibility to choose where to work - and when to work - whether in the office, at home, or from other locations like coffee shops. So how can businesses create the conditions that can allow employees to return to the office safely? Companies must seek out a solution that is specifically designed to seamlessly keep the office environment safe, without sacrificing on experience for everyone coming through the door."
 Jeff Heckler, Global Head of Customer Success at

Pipedrive
"The pandemic has accelerated changes to the way we work, leading businesses and people alike to rethink their approach to productivity. For sales, marketing, and customer care teams, the impact of COVID-19 has been to reaffirm our need to connect with each other and the wider business - to react smartly and empathetically to changing customer needs. Alongside focusing on our relationship with customers, the need to provide a fast and efficient service has been supercharged by automation technology. This technology helps us to reduce how much time is wasted on labour-intensive administrative or repetitive tasks, so we can focus on our customers.
The right processes and tools ensure frontline staff, like salespeople, are talking to customers and prospects - to understand their challenges and offer immediate and intelligent advice. Being productive in your own organisation will carry through to helping your customers be productive, or even just to help lighten their burden."
Joshua Zerkel, Certified Professional Organiser and Head of Global Engagement Marketing at

Asana
"The shift to distributed work has fueled distraction and disruption, with teams fighting a never-ending battle to stay focused. Our recent research reveals that UK workers are using 10 apps and switching between them 26 times a day - as a result, almost a third (28%) flag that messages and actions are missed and inevitably productivity falters. As teams prepare for the next chapter of hybrid work, enterprises have an opportunity, and a business imperative, to help employees eliminate distractions and boost productivity.
Tools that facilitate collaboration and organisation whilst operating remotely have been a lifeline for teams around the world. But at Asana, we've found that a less is more approach is most effective. With a single source of truth platform, information silos are eliminated - limiting disruptions so teams are empowered to find their focus and stay connected no matter their location or time zone. Only when these key foundations are in place can businesses begin to operate productively."
"On World Productivity Day, all eyes will be on how businesses could adapt their processes to improve productivity. Remote working has been a positive experience for many companies, but in the rush to keep business in motion, some have cut corners. In some cases, cybersecurity has suffered. Consequently, organisations end up losing productivity as they deal with a growing number of data breaches. As employees move between working environments, the risk of a data breach or credential theft is only set to increase, as adversaries seek to access business-critical information through public networks and home-working environments.
Businesses must remain vigilant to the challenges of reintroducing employees to hybrid office environments by laying out a responsible policy on security requirements for mixed-environment workers. This includes implementing multi-factor authentication processes and regularly monitoring the network to protect company-owned devices. Careful monitoring and the implementation of more rigorous processes will ultimately see productivity bloom, as concerns surrounding business network security reduce."