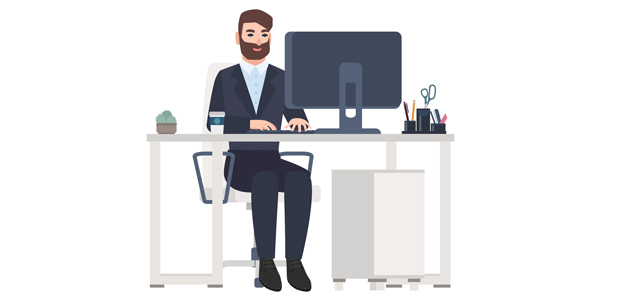 Understanding the new 'normal'
The Coronavirus pandemic will change online behaviours significantly and possibly permanently both for consumers and businesses.  People have been forced to access information in new ways, interact and purchase new and different products and services online, and the longer this continues, the more likely these are to become habits. 
Explaining what it might mean for businesses in the short to longer term as we come to terms with the first few weeks of lockdown is Santtu Kottila CMO and co-founder of Leadoo Marketing Technologies which concentrates on website conversion by engaging in chat bot conversations with customers.
Facing up to the new "normal'?
In the short term, for all but a very few, business is tougher and many are rushing to keep up and keep their heads above water.  With that comes a need for companies to consider how they can become stronger and fitter.  One starting point is to ensure you understand your sales pipeline better than ever before.   
As people are increasingly spending more time online, this could potentially mean that they discover your website perhaps for the first time.  That online spike in traffic was particularly clear during the first week of lockdown with our customers' web traffic (plus conversions – be that online sales or contacts) increasing monumentally in the first week of the lockdown (Monday: up 223% on the previous week's average). Everyone predicted that the giants of e-commerce would benefit most from people working from home and not going out to shop, but our customers are mainly SMEs and the data shows that there is a flurry of traffic and conversions on SME websites.
Many businesses initially invested heavily in their online presence, specifically their websites only to let them become out of date.  As your website and online presence is currently your main face or shop window to the outside world, now is the right time to review it and ensure that the user experience is as engaging and interactive as possible, particularly when you consider that the average website conversion rate is between just 0,5 and 1,5%. 
But rather than succumbing to any new approaches from website developers or designers, take a look at what you could easily implement yourself.  
We are hearing from companies that they are refocusing efforts – for example sales people have more time (with less time spent travelling) - so they can perhaps be redeployed into considering new products or services that you could launch online that would help solve your clients' current problems or concerns, remembering that these may be very different from what they were just a month ago.  Your attention should be on the buyer journey and removing any barriers to progressing along that journey, such as lack of knowledge about the product and differentiation with competitors' products or services. This provides a more personalised user experience, which in turn makes visitors more likely to finalise a sale or submit a formal enquiry. It doesn't take much to ask the right questions at the right time if you use tailored technology to help you do so.
If you are already using bots on your website, now is a good time to review your chat content and consider how your online bots could respond more appropriately to visitors in light of recent events. If you haven't previously considered bots and the benefits they can bring in terms of lead conversion, then think again.  The bot used by one of our clients in the software development sector – during Coronavirus lockdown – generated two discussions around the needs of the visitors which converted to two leads within the first hours of implementing their chatbot system.   This was by implementing an InpageBot which sits as a natural part of website content so as not to distract or interrupt the visitor, and which typically has a 6x higher engagement rate than traditional chatbots as an InpageBot asks just the right questions at the right place and time and doesn't interrupt nor annoy the visitor.
Chatbots, used well, provide an opportunity for you to find out more about your customers and potential customers whilst also giving you the opportunity to provide more information to them.  And, your team having access to your own bots via an easy to understand, analyse and edit dashboard is particularly important when people are working remotely.
So, whilst you firefight in the short term, rethink your plan, acknowledging the current lack of face-to-face opportunities and considering instead how you can maximise growth opportunities for your online channels.
Will business continue to social distance?
After we have got over that initial opportunity to peer into our colleagues' bedrooms and living rooms via the first few weeks of video conferencing, comes the time to put your rethought plan into practice.  Here are some of our recommendations for your presence online:
Find relevant traffic through advertising. Advertising is just one way to drive traffic, but it's a quick way to boost your online traffic. Do however find a niche – or you'll risk overpaying – so consider a geographic region to go after or one of your products/services which sells better than others to focus on.
Concentrate on conversions. Having traffic on your site doesn't drive value by itself – you also have to convert this traffic into direct sales or sales leads.  Use live chat or bots that are in the right context, as a natural part of website content which enhances rather than interrupts the user experience. Engaging in this dialogue will activate your visitors. According to our own statistics, people are on average around 50% more likely to leave their contact information when you've first helped them through a dialogue.
Upsell and remarket. Email works wonders on re-engaging customers that already know you from recently before. Don't let email remarketing slip to 30 days after their last contact or purchase – engage as soon as possible with relevant new offers. In the same way, when you get an online sales lead, contact them within the hour, not the next day!
Unlock down Day
Of course, none of us know when this will be, but thinking now about the longer term future of your business and how it might operate in the future makes good business sense.   Is there a chance that we will decide that all the face-to-face networking of old is just too much like hard work and there are upsides to staying at home and doing everything remotely? Certainly, many are predicting a long term working from home revolution but the truth is we do not yet know. 
There are some things, though, that we can see changing permanently.  The first is that more and more customers will have become used to starting their buying journey online so make sure you never again leave visitors "on their own", as they are more likely to leave and visit a competitor's site to find the information and support they are looking for.  This will have long term impact on how they engage with websites going forward.
The recruitment "freeze" will come to an end, resulting in a need to get things happening again quickly whether that's Universities recruiting students or recruitment for paid employment. Recruitment bots can make the process quicker, easier and more engaging, lowering the barriers for people to apply (which they will thank you for), thereby increasing responses from passive job seekers.  Candidates can do a quick chatbot interview of just one – two minutes which show whether they are right for the job.  Then companies and candidates can finish the conversation or take it further by asking for additional information or immediately taking a phone number and calling to continue the interview process.   
Some of the experiences we have had during lockdown, such as relying more on the online environment and our expectations of customer service, will last long after the pandemic has subsided.  And, yes, that will change the world of work and business for good. Prepare now to make sure you stay ahead of the curve.