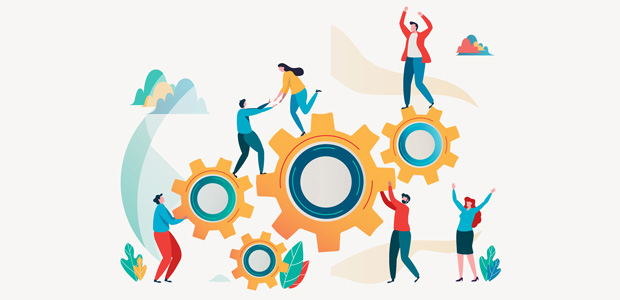 18 ways to increase your chances of making your startup a success in the first year
If you're wondering how to make the best success of your startup in the first year, I'm here to share 18 top tips with you. These insights are all gained from interviewing the first aid startup Cube Group-Services Ltd when we collaborated on a blog earlier this year.
Eleven months ago I ventured into the world of startups after joining electronics design and software development consultancy, Ignys Ltd. Shortly afterwards I discovered to my delight that a previous colleague had started her own company, a bold first aid startup by the name of Cube-Group Services. So we very much learnt together as we went along the process.
After collaborating with Sue and her team to tell their full start up story it dawned on me just how many lessons from their upcoming first year in business they could pass onto other companies in a similar position.
So I've taken all the lessons I've learnt from speaking with Sue and their experiences and compiled them into a blog to help other startups.
The blog in summary
Create branding that grows with you

Use your network (to grow your team and get the word out)

Create branding that stands out

Be unique

Go bespoke with your customer experience

Have an expansion plan

Get ready to adapt

Think about sustainability from the start

Don't forget about employee wellbeing

The power is in your people

Stay in step with the legislation

Celebrate every little win

Learn from others

Never stop learning

Use technology to your advantage

Have a back-up plan when someone is out of action

Don't just use marketing to 'tick a box'

Dream big
So who are Cube anyway?
There isn't much merit in sharing top tips on how to make your start up a success without giving some context and credibility to the company the tips come from!
Cube is the brainchild of Connor Judson, a paramedic and healthcare manager who felt that the current H&S training on offer lacked substance with their costs not matching the potential for a bespoke experience. But before he had the time to launch the idea Sue, a colleague from his theme park H&S days approached him with a similar vision. So, in the true spirit of 'if you can't beat them join them' they joined together as a super force to shake up the market.
Here are the lessons you can learn from their success to date
Create branding that grows with you
When you start out you often come in with huge ambitious ideas of what your company will become one day. It's that drive and vision that led you to take the leap to start your own company in the first place.
But the reality is when you start out you can't always offer your customers everything you dreamt of right from the get-go. For example:
Maybe you have some great features for your product that were just too expensive for your development budget in the first instance

You have some great ideas for services but can't justify the staff costs.

The plan is to offer 50 products in your retail store but can only get five contracts

You want to sell worldwide but need to conquer the UK market first.
However, if you set up your messaging, your logo and your style in such a way that it grows with you, you are off to a good start. You don't want to pick a company name or logo that restricts you to one service or sector when you have plans to grow beyond that.
For example, you might not want your product to feature a sofa if you are starting out in furniture but want to expand into the office environment.
Cube did this by creating a logo with several sides to represent the areas they want to grow into.
Use your network to grow
Personal branding becomes more important every year. With LinkedIn continuing to take the world by storm it is very much a case that you can find some great advice everywhere you look. And even better as you start to succeed you can then help others start their journey too by sharing your knowledge.
You can also utilise the great start up communities and the many free webinars out there to help you.
You may have former colleagues from different departments you can use to grow your team, for example a great accounts manager you previously worked with who has since gone freelance or another healthcare professional.
Cube brought together more colleagues they had previously worked with. For example, Collete who has worked at 30,000 delivering babies and therefore is great at simulating H&S scenarios in confined spaces or replicating stressful situations.
Stand out with your style
A lot of larger organisations are tied up in approval red tape when it comes to marketing. This means you have the ability to be a lot more agile and stand out from the crowd. Whether it's through bold social media campaigns, fresh paid ads or in a website that's a little different.
Cube initially used the amazing skills of Sarah to set up a website and used bold colours in their branding, or as Sue likes to call it 'the power of pink', we have to approve of this since, here at Ignys, we also chose pink as one of our pantones. "It's a great way to show off our personality" Sue enthusiastically explained.
Be unique
When you first start out there is a trust barrier. When you first come up on a google search there is a natural instinct for people to go with a name they recognise.
So when presented with a well-known brand the pull of loss aversion will prevent some people from buying from you.
So the trick is to show them exactly what they will gain from working with you and make it so powerful and easy to understand that they can't afford NOT to hit the enquiry button.
Cube have focused on affordability and a bespoke experience. "Health and safety emergencies rarely happen in open spaces, in fact more often than they happen in the most awkward place possible, like up towers or in restricted areas. So we work with people to create scenarios that are real to them. Not only to help their staff engage with the training but more importantly empower them to know they can act to help each other, or customers should an emergency occur."
Go bespoke with your experience
Unless your product or service concept is truly unique, chances are you'll have some competition. In fact even if you have a great USP there will be companies in similar sectors looking to steal your audience's attention. So go deeper with ways to make your customers feel special.
At Cube they've focused on making each training day different not just through the simulated scenarios they put in place but by speaking with the team beforehand to find out exactly how their people will get the most out of the day, and of course by gathering feedback. Cube created a QR code enabled survey to make it easier for customers to feedback online as well as making it easier to gather and analyse the data.
Sue said: "We realise that, for many individual people at work the question that really matters is 'if my colleague fell ill at work, could I help them or would I just be a powerless bystander." We give the power to those people.
Have an expansion plan
It can be tempting at the start to put one foot in front of the other and focus on the next little challenge rather than looking at the big picture. Know where you want to be in five year's time. The reasons for this are not for a floaty visionary reason. They are practical too.
If you plan to sell in the EU eventually you will want to ensure you are able to comply with regulations now rather than running into difficulties later. Or if you want to grow your team you may want to start looking at recruiting a little earlier than planned as the process often takes longer than you think.
Cube already have big dreams in place to revolutionise the events space when it comes to providing H&S that offers greater communication, they also have their hearts set on expanding into mental health first aid. Sue said: "This is so often overlooked but plays a huge role in reducing physical emergencies caused by panic attacks or worse. It can often take just one conversation."
Get ready to adapt
However prepared you are, something is bound to happen that you didn't expect.
It could be you get a lot more interest in your product than you planned and find yourself short of customer service staff.

Maybe you realise your PPC budget isn't going to cut it and you need to factor in extra advertising spend.

Perhaps there is a problem with component availability or a delay in the supply chain.
The best thing to do is have the right mindset when these things do happen. Plan ahead as much as possible but know that, when the unexpected happens, your team will be there with an open mind ready to adapt. The great news is, that by adapting, sometimes you can grow even quicker than you would have done without those changes, if you get it right!
One great way to do this is to really be in sync with your target audience. H&S training wasn't a great space to be in during lockdown since face-to-face training was avoided by many companies worried about exposing their staff to harm.
Rather than pressuring customers or using scare tactics the Cube team reassured their customers by building in robust safety measures for the training days and listening intently to their concerns. They reached out to organisations through their network to ask them ahead of time if they needed training, so they didn't feel rushed into organising H&S updates at the last minute.
Think about sustainability from the start
As part of this ability to adapt to changing situations, think hard about how you can build in ways to keep things stable. Being involved in a startup, by nature, is risky. By using government loans or putting aside funds you can build up some stability. As you grow you will get to a point where you feel stable but new recruits are nervous to join and you will want to be able to reassure them to attract talented, passionate people.
You will also want to thoroughly research the market before you start investing in your business idea.
Connor shared his insights on Cube's Articulated Sales Argument "we have made it affordable and simple."
 After researching the market Connor and Colette found many pricey packages but not many affordable ones.  Cube have gone for a simple pricing structure per person per day. They were keen to empathise that their prerogative for making profit is to put that money straight back into the new services within their business in a sustainable way to help Cube grow. 
They can then invest in the mental health services side of their business. "It's not about money, it's about making it accessible for everyone and providing realistic first aid." They have set achievable but ambitious targets for themselves.
Don't forget about employee wellbeing
When you are starting out as a business every employee you have is gold dust. This means you can't afford to lose them to another company. Joining a startup takes confidence. Anyone who joins you early on could be a real keeper. They joined you either because they believed very strongly in you, your idea or in their abilities to be at the top of an exciting new venture. If you kill that dream by driving them into the ground or failing to appreciate them, they will leave and leave in their wake a huge gap to fill.
When you only have a few staff it's very easy for staff to get overworked either because you pile on the pressure or because they do it to themselves. So make sure you check in with them. And as the team grows find ways to keep the team connected; to each other and to the common goal. Or you might just lose what made that team special in the first place.
Cube have seen many mental health emergencies that could have been avoided if someone had listened. Sue said: "We hear stories all the time where someone says, 'I had something really important to ask my boss and they didn't have time to see me.' Often mental health can deteriorate due to something very simple such as not being listened to.
Sue continued: "One way to spot if there is a problem is if a colleague starts complaining of headaches regularly or just seems off. If you spot this then the best thing to do is to grab them for a coffee and just chat about their lives and work and see if there is something they need to get off their chest."
The power is in your people
Ask most people why they joined a startup and chances are they wanted to be a key player in something new and exciting. That means the people that join you are risk takers who believe passionately in you and what you are trying to achieve. Bring out the unique gifts of everyone you know whether it's delivering babies at 30,000 feet like Colette or uncovering creative skills you didn't know they had.
Stay in step with the legislation
Many startups and even SMEs make the mistake of thinking because they are small that the eyes of the law aren't on them. GDPR, product compliance and employee law are still important and getting it right from the start will prevent problems later. Health and Safety is just one aspect you'll want to keep an eye on as well as the UKCA changes which means planning ahead to make sure your products are compliant and you don't get stuck in a queue.
Learn from others
There is a really wonderful startup community and you can learn so much from local networks and places like LinkedIn. Don't be afraid to learn from each other. Not every successful business is a competitor.
And if someone makes you feel small because they are great at social media posts or using e-commerce why not reach out and ask for some top tips?
Never stop learning
At both the Cube team and at Ignys there is a learning culture; as technology, trends in mental health and marketing techniques evolve it is easier than ever before to fall behind. Your startup is going great! This is an excellent time to speed up not slow down!
Use technology to your advantage
Sue said one of the scariest things about starting a new business was not having an IT expert to hand. As they grow, they are planning to branch out with blended learning and more. Sue said: "For use it's important never to lose that face to face element to the training even if remote training is useful for some companies." 
As you grow use processes and CRM systems to keep things running smoothly.
Have a back up plan when someone is out of action
When you are a small team having someone out of action means the rest of the team need to step up, but that's why working together as a small team creates such a strong bond. But always have a back up in place.
For instance, if you have one software engineer and they fall ill make sure you know a good company where you can borrow an engineer for a few days, you don't want to be doing that research when you don't have a back-up plan and you are busier than ever.
Don't just tick a box with marketing
Cube are constantly experimenting with their marketing taking natural images for social media and taking their time considering their next steps for their sales and marketing approach. It's very easy for businesses to assume they need marketing and hire a pricey marketing manager without having a plan. They don't research how they are going to measure the return on investment. Marketing is a lot more complex in terms of measuring its success than just pure sales so often you need to understand what else it will bring to the table.
Do you want to attract more traffic to the website?

Are those likes on social media just a vanity metric that don't result in sales?

Maybe that works because of the brand awareness it brings that is far harder to measure?
Ensure you have the correct conversion metrics in place using tools such as google analytics and google tag manager so you know exactly where your enquiries are coming from. You don't want to blindly throw money at advertising without knowing if it is working.
You could be spending far too much on a channel that isn't right for you. Equally it may be you aren't getting enough leads because you aren't spending enough on any given channel and spreading your budget too thin. Consider hiring specialists in PPC, content marketing and social media if you aren't ready to make the leap to recruiting a permanent in-house member of staff just yet.
Dream big
Never stop dreaming. Don't let you or your team lose sight of the next big dream! Many great and powerful organisations achieved a great dream and then failed because their next plan wasn't nearly as ambitious or exciting. Always have that next mountain to climb!
Finally good luck. You have the drive you need and that's a great starting point!