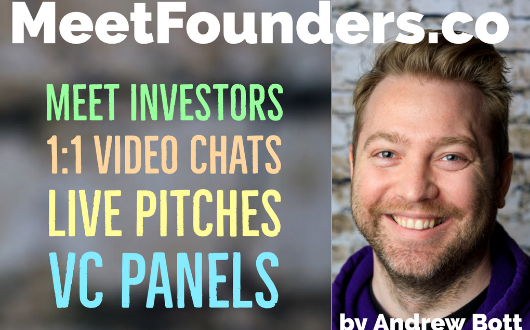 MeetFounders Venture Capital Event
Date

Monday,26 Oct

Location

Time

06:00 PM

Price
Two days of VC panels with 24 leading experts in Venture Capital, networking, and live pitches from startups seeking funding!
Startup investment and raising finance is often an opaque hidden mystery to most seeking it. Come and join us for 7 elite panels of investment industry insiders who will shine a spotlight on the process. This rare inside view will educate, entertain and give you solid advice from those who know. Limited places available for this action packed event, grab a ticket now.
Our event is fully virtual, and building real relationships via video chats is one of the core elements! Attend live, and network with other investors, VCs, startups who are currently raising funds, and future founders. Get full viewing access to our past events! Top VCs, Investors, and successfully funded founders share their insights and secrets about the industry.