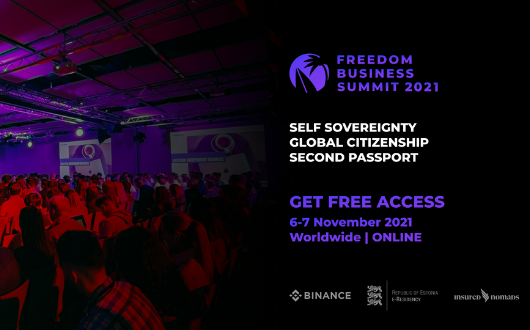 FREDOM BUSINESS SUMIT 2021
Date

Saturday,06 Nov

Location

Worldwide (*Time should be defined later)

Time

01:00 PM

Price
Freedom Business Summit 2021 - GLOBAL SUMMIT FOR THOSE LOOKING FOR WAYS TO TAKE THEIR FREEDOM BACK, MITIGATE GEOPOLITICAL RISKS, PROTECT THEIR WEALTH AND BUILD A LOCATION INDEPENDENT LIFESTYLE. Freedom Business Summit - is not just a regular summit, it is a philosophy of location independent lifestyle that is organized in official partnership with e-Residency Estonia and citizenship agency Migronis. Our key partners are Insured Nomads and Binance. Dates: 6-7 November 2021 Format: Worldwide | Online 2 Days 30 Speakers
Freedom Business Summit 2021 - GLOBAL SUMMIT FOR THOSE LOOKING FOR WAYS TO TAKE THEIR FREEDOM BACK, MITIGATE GEOPOLITICAL RISKS, PROTECT THEIR WEALTH AND BUILD A LOCATION INDEPENDENT LIFESTYLE.
Freedom Business Summit - is not just a regular summit, it is a philosophy of location independent lifestyle that is organized in official partnership with e-Residency Estonia and citizenship agency Migronis. Our key partners are Insured Nomads and Binance.
Dates: 6-7 November 2021
Format: Worldwide | Online
2 Days
30 Speakers
This year we decided to bring together 2000+ the world's best entrepreneurs to learn proven strategies, get proven systems to build a freedom business, build a winning mindset, and run your business globally from freedom entrepreneurs, world travelers, global investors and remote startups founders.
SUMMIT AGENDA
Bringing together topics that don't cover in big media, the summit aims to educate those who value their freedom on things like:
Self-sovereignty 101 - embracing prepper mentality and becoming a free man.
Jurisdictional Arbitrage - playing the game of flag theory, why having a second passport is necessary, how do you pick the right jurisdiction and what the paperwork is like.
Global incorporation - seeking a better regulatory environment for your business.
Bitcoin through a macro lens - your hedge against the money printer.
Building a citadel - self-sufficient housing.
Unschooling - teach your kids critical thinking.
Taxation - legal ways to minimize or entirely avoid the burden of capital gains and income tax.
More details: freedomsummit.net